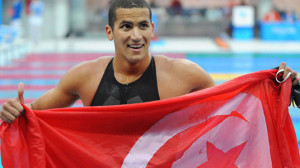 Oussama Mellouli is not on the podium in the 800m at the Swimming World Champs in Barcelona.
It is the Chinese Sun Yang, who became world champion by winning in 7'41 ". This is the fourth world title for Sun. He had already won the 800m and the 1500 in 2011 and in 400m in Barcelona this year.
He is in this final ahead of the American Michael McBroom, second in 7'43 "60 and the Canadian Ryan Cochrane third in 7'43" 70.
Oussama Mellouli can bring himself comfort with two medals won at this World Champs in the 10km and 5km freestyle swimming.