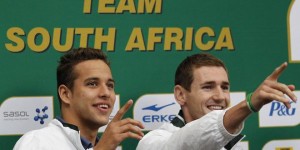 South Africa won two gold medals on Wednesday. Cameron van der Burgh won the world title in the 50 breaststroke, with one hundredth ahead of the Australian Christian Sprenger in 26 "77.
A few minutes before his compatriot Chad le Clos had dominated the final of the 200 meters butterfly, a year after being crowned Olympic champion, with a lap time of 1'54 "32
The highlights of the day with Mael Seror, our Special reporter Africatopsports to Barcelona.
[youtube]http://youtu.be/kWQ0uf3TnZo[/youtube]