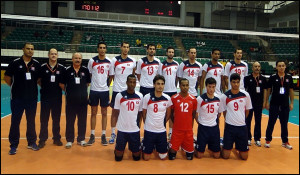 By winning against Algeria by 3 sets to 2, the team of the Tunisian Volleyball has qualified for the finals of the World Championship qualifiers 2014.
The Carthage Eagles had won their third meeting this Wednesday in zone 1 in the qualifying tournament for the competition which will be held in Poland. In the same group, Tunisia had dominated Morocco by 3 sets to 1 and Libya (3 sets to 0).
The qualifying tournament for the 2014 World Cup, taking place in the Mohamed Nasri Omnisports room in Chlef.