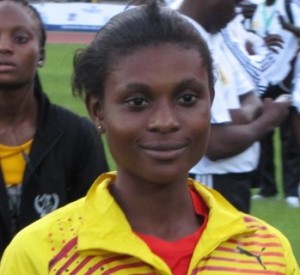 There will be only one Ghanaian athlete at the World Champs of Moscow. The Ghanaian Athletics Association (GAA) reported on Wednesday, the name of its representative to the World Championships (10-18 August). It is Janet Amponsah (20 years), said the Secretary General of the GAA. Sprint specialist, Amponsah was selected for her previous performance.
Elected Female Athlete of the Year by the Sports Journalists' Association of Ghana (SWAG), Janet Amponsah won titles in the 100 and 200 meters at the Junior Championships in West Africa (Abidjan, Ivory Coast) . Her reference time on the half-lap is 23" 41, established at the World Juniors 2012 (Spain). Her best performance in the 100 m was achieved in Ouagadougou in 11" 51.
In 2011, at the world championships in Daegu, the Ghanaian delegation was composed of seven athletes from long jump, the heptathlon, the 100m and 4x 100m.