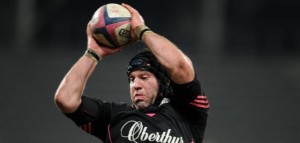 The second line of the Stade Français, Anton van Zyl (33 years old, 12 tenure last season) should not be on the pre for the debut of the Top 14.
The South African has contracted a sprained at the ankle in the training and will be out for several weeks, released the Parisian club said on its website. So it will be without the precious substitute of Pascal Pape (ndrl wounded in February during the 6 Nations match against Italy) last season that the new coach Gonzalo Quesada and his staff will begin the last corner of the pre-season phase with an internship in the South-west of France.
A course which will be characterized by two friendly games. Paris faces Bayonne on Friday before continuing its shooting against Agen, Thursday, August 8.
The Stade de France moves to Grenoble for its first game of the season 2013-2014 Top 14, on August 17.