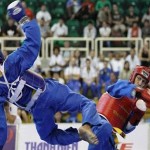 The Vietnamese martial art, vo vietnam vodao known for its spectacular acrobatic scissors, takes shape in Algeria. Lovers of this discipline held this Saturday their general assembly in Algiers in the presence of the Ambassador of Vietnam, Do Trong Kong.
Mohamed Djouadj was elected by his peers for a term of four years. The new president said that "the followers and lovers of the discipline were waiting for this moment for a long time." "Today we have accomplished some of our goals, but the biggest is to do," he says.
The new born federation has among other goals, the expansion of the discipline and increase the number of graduates at the national level. Mohamed Djouadj also aims at making of Algiers the Capital of the World vo vietnam vodao.
[youtube]http://www.youtube.com/watch?feature=player_embedded&v=0yVLk_CjHE0[/youtube]