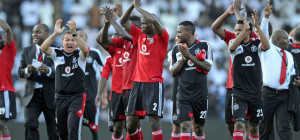 The second day of the group stage of the African Champions League has left traces. A difficult day for the heavyweights of the competition. Beginning from Group A by the resounding defeat at home of Al Ahly against Orlando Pirates. South Africans have obtruded themselves with ease on El Gouna 3-0 in a game that did almost not take place.
In the other match of the group, the other Egyptian training, Zamalek also bowed to the Congolese club, AC Leopards 1-0. So, it is the winners of the weekend who take the power. Pirates leads the group with four points. Same number of points for Leopards which is second on goal difference. Ahly and Zamalek close the list.
In Group B, Esperance de Tunis took advantage on the reception of Coton Sport of Garoua to recuperate after its defeat in Angola. They won 1-0. Séwé Sport of Ivory Coast did not leave a chance to Recreativo Libolo. The double champion of League 1 brilliantly won 3-1 with a great player by the name of Kevin Zougoula.
In the rankings, Sewe Sport leads the troop with three points, ahead of Esperance (3 points). Libolo has also 3 points while Coton Sport has 0.
Results of the weekend
group A
Al Ahly 0 Orlando Pirates 3 (Ntshummayelo, Jali, Myeni)
AC Leopards 1(Kalema) Zamalek 0
group B
Eséprance 2 (Belaili, Iheb Msakni) Coton Sport 0
Sewe Sport 3 (Kevin Zougoulax 3) Recreativo Libolo 1 (Sydney Dos Reis)