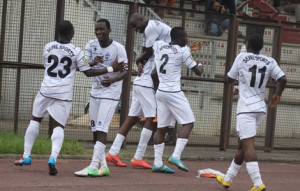 Séwé Sport of San Pedro did not miss its debut in the CAF Champions League. The champion of Ivory Coast who was playing its first pool game defeated the Angolans of Recreativo Do Libolo (3-1) on Saturday at the Robert Champroux Abidjan Stadium.
All goals of this poster were enrolled during the first period. The trigger of Séwé, Kevin Koelly Zougoula, scores after 23 minutes of play. Receativo Libolo, leader of the group, after its victory against Esperance the first day, equalized in the 33rd by Sidney Mariano. But Kevin Zougoula shortens the delight of the visitors two minutes later (2-1 at 35th), before scoring the 3-1 goal in the stoppage time of the first half (45 '+2).
Nets did not tremble in the second period which is marked by the expulsion of the Right of the Ivorian club, Pacôme Agboké (69th). With this win, the Séwé Sport of San Pedro headed the group B ahead of Esperance de Tunis, winner of Coton Sport (2-0).
Séwé Sport and the Cameroonians of Coton Sport will play on Aug. 11 the catch-up game of the first day (editor's note, the meeting was unable to play due to the sanctions imposed on the Fécafoot. A penalty which has been eventually lifted).