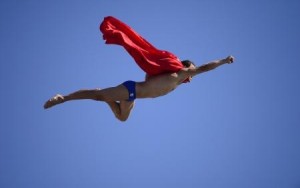 While it is taking place in Barcelona the swimming world championships, nearby, another competition relative to basin proof sheets is also in full swing.
And it is precisely in this competition that invites himself, the Superman (Video)! Clenched fist as usual, he slackened off in a vacuum.
Do not believe in a reincarnation of Superman! This is the Czech Michal Navratil who is disguised.
After taking the 4th place in the high dive, he then wears the red cape of Superman and his blue bathing suit and plunged.
It was a real treat for the spectators on the spot!
[youtube]http://youtu.be/NW_z80R5-Lk[/youtube]