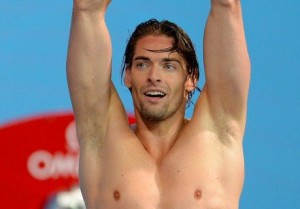 The French swimmer Camille Lacourt is the happiest of men. But his friend, Nelson Monfort, the famous sports journalist of France Télévisions has a great blunder by announcing publicly that he was going to marry the lovely former Miss France Valerie Begue!
After the medal ceremony of the 4x100m medley relay in the World swimming Championships on France 3, Nelson Monfort has indeed unveiled live the date of their wedding! "Camille, all our wishes of happiness for August 17, a nice event that is coming (…) It is no longer a secret, you will become a groom on August 17. Our best wishes are with you! ".
And another blunder for Nelson!
Check out the video!
http://www.programme-tv.net/news/sport/41872-gaffe-nelson-monfort-mariage-lacourt-begue/