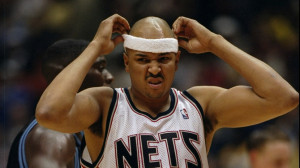 Bronze medalist with the Team of the USA in the World Championship in 1990, Chris Gatling (45) leads an inglorious life away tartan. The 1997 All Star must go to court for "theft" and "fraud."
Best trigger of the NBA (1994-1995) in field goal percentage with 63.3% (editor's note, one of the top ten percentages in the history of the league), the former player of the Golden State Warriors, among others was squatting a house in Paradise Valley, Arizona for one year.
Ruined, Chris Gatling wanted to redo financial health. He decided to sell the house. Evil has befallen him since the couple that owns the house, living in California, have been aware and complained. Gatling pleaded guilty and will get to the box on October 4.
We must say that Chris Gatling is not an isolated case for retirees of the NBA. In December, we raised the disturbing lifestyle of Allen Iverson. According to statistics, 60% of the players are bankrupt five years after stopping the competition!