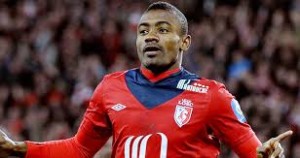 We are moving towards this scenario. Salomon Kalou should ultimately stay in Lille this season. The Ivorian international announced last week close to West Ham is not as eager to leave the North of France. "René Girard is a coach who can make him progress. Under these conditions, I do not see why I will look for another club elsewhere, "he confided in comments reported by La Voix du Nord.
West Bromwich Albion also on the spot will have to backtrack. Kalou, author of a nice late season with his club want to continue to progress with the latter. That will reassure the former coach of Montpellier. Another good news for Lille, the return to training of Florian Thauvin. The player at the heart of a confusion between Lille and Marseille joined his new teammates.
Under contract until June 2016, Kalou scored 14 league goals in his first season in the colors of LOSC.