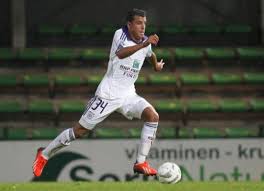 Nabil Jaadi was very successful during the pre-season training with Anderlecht. The performance of the young Moroccan has caught the eye of the coach of the Atlas Lions. Although Jaadi Nabil has not played a single official match with his club in the Jupiler Pro League this season, Rachid Taousssi wanted to call him for the friendly match against Burkina Faso on August 14.
The Moroccan coach's dream to see the 17 years winger with the Lions will not be fulfilled. The young Belgian player of Moroccan origin has no intention of joining the Lions. Nabil Jaadi kindly declined the invitation to keep all his chances to join the Red Devils.
Jaadi is not the only Belgian of Moroccan origin to interest the Atlas Lions. It is also the case for the player evolving in PSV Zakaria Bakkali. The latter has already stated that his preference was for the Red Devils.