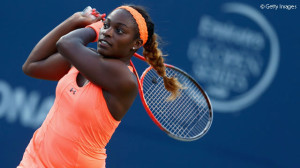 After her first-round surprise elimination of the Washington tournament, Sloane Stephens reassured herself for her debuts in Toronto. The 17th player worldwide qualified for the second round of the 2013 Rogers Cup.
The American, seeded No. 14, beaten for her opening match, the French Kristina Mladenovic after a tiebreak in the second set 6/2, 7/6 [7-5].
In the next round, Stephens will face the German Mana Barthel who in three sets got rid of the Chinese Jie Zheng, 6/7 [7-3], 6/3, 7/6 [7-1 ].