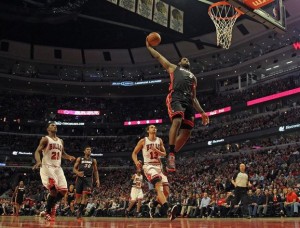 The new NBA season begins in October. The champion, Miami Heat, puts into play its title on 29 October. LeBron James and Co will face for the first day the Chicago Bulls. There will be a fragrance play-off at the American Airlines Arena. There could see an official return into the competition of Derrick Rose.
In the West, Doc Rivers will have to start on the bench of the Clippers with a derby at the Staples Center against the Lakers. Curiosity will be to see if Kobe Bryant will be on the tartan to begin the battle of pacific division.Tony Parker and the Spurs of San Antonio, NBA vice-champion will compete on October 30 against Memphis.
The regular season, which begins on October 29, will end on April 16, 2014. The Play-offs will start on April 19. Note that the All-Star Game will be held at the New Orleans Arena in New Orleans, February 14, 2014.
Here are the posters of October
October 29, 2013
Indiana – Orlando
Miami – Chicago
LA Clippers – LA Lakers
October 30, 2013
Brooklyn – Cleveland
Miami – Philadelphia
Boston – Toronto
Washington – Detroit
Milwaukee – New York
Charlotte – Houston
Orlando – Minnesota
Indiana – New Orleans
Atlanta – Dallas
Memphis – San Antonio
Oaklahoma City – Utah
Portland – Phoenix
Denver – Sacramento
LA Lakers – LA Clippers
October 31, 2013
New York – Chicago
Golden State – LA Clippers