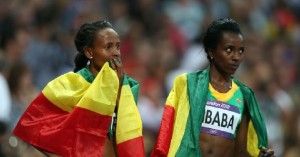 All those who dreamed of a duel between Meseret Defar and Tirunesh Dibaba will be disappointed. At least not for the 14th World Athletics Championships that opens in Moscow on August 10.
The two stars and rival Ethiopian will not compete at the World championships while they were both listed in both 5000 and 10,000 m, said l'Equipe on Wednesday. The two greatest distance runners, will not line up on the same distances.
Defar should run in the 5000 m for Dibaba to take care of the 10 000 m. Officially, the Ethiopian leaders explain that "running two things at once" could be harmful.