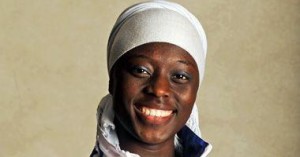 This Saturday, lovers of athletics will have their eyes focused in Moscow. Because the World Championships begin, a beautiful sports festival which will run until Aug 18.
Myriam Soumare comes in this competition with the hope of winning a place in the final of the 100m. Or even a place on the podium. However, the young French sprinter of Mauritanian origin known for her good humor will have difficulties in facing the Americans and the Jamaicans.
Soumaré arrived in the Russian capital after a sawtooth season. His best time is 11 '30 in the 100m and 22 "88 in the 200m this year. However, the French keeps all her confidence for the World competition. To believe L'Equipe, the Mauritanian who is in better physical shape believes that her reference time should improve.
"I'm in shape. So it should come down. "
In Moscow, the sprinter has well-defined objective: "To have fun, without regrets. Two years ago, I leaved quite bitter Daegu (eliminated in the semi-finals of both races,) Here I will do better. I do not want to set barrier. Anything can happen. The counters are reset to zero, "she said in comments relayed by L'Equipe.
Soumaré finished second in the 100m at the last European Championships.