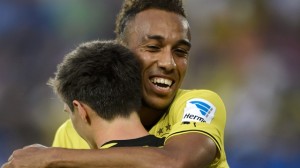 This morning, Pierre-Emerick Aubameyang made headlines in the world press. His treble with Borussia Dortmund for his Bundesliga debut does not stop eliciting reactions.
More than the goals, the Gabonese has also entered the history of the German championship, becoming the sixth player to register three goals for his Bundesliga debut.
The six players who scored a hat-trick in their first Bundesliga match:
E. Kraus, Munich 1860, 1963/1964
H. Ohlicher, VfB Stuttgart 1973/1974
O. Marschall, Dynamo Dresden 1993/1994
Adhemar, VfB Stutgart, 2000/2001
Mr. Fenin Eintracht Frankfurt 2007/2008
Pierre-Emerick Aubameyang, Borussia Dortmund 2013/2014
Watch again his three goals against Augsburg.