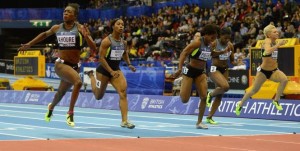 Stella Akakpo had a difficult start in the Athletics World Championship in Moscow. The Franco-Togolese athlete of the 100m was eliminated from the playoffs on Sunday. Akakpo finished her series in the 4th place with a time of 11 "43. A time that does not allow her to rise in the final. Just the opposite for her compatriot Myriam Soumare who will participate well in the 100m semi-finals.
Soumaré finished 4th in her her series with 11'34. She has been rescued in time. Surprise member of the French delegation after her title at the European Championships, Akakpo, only 19 years, knew that the learning is hard. She has already confessed to have come to Moscow to gain experience.
Ahouré and Okagbare passed!
Stella Akakpo was in the series with the Nigerian Blessing Okagbare. She flew over the race in 11 "03, with an ease. In the last series, a dual opposed the American Carmelita Jeter world champion in 2011 to the Ivorian Murielle Ahouré. It is the latter who dominated the race in 11 "22 (much headwind), Carmelita Jeter is the second in 11" 24.
Qualification also of the Olympic champion Shelly An Fraser and the Bahamian Sheniqua Ferguson.
The semifinals will be explosive.