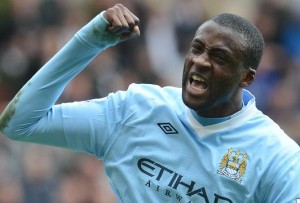 The Ivorian Yaya Toure, best footballer of the year 2013. This is the result out of the vote for the  sport-ivoire prize for the best footballer of the year.
After the cumulative press votes(national and international), 60% of Internet users (40%) on the website sports ivoire.ci votes, the midfielder of Manchester City wins with 32% of votes cast, despite a virgin 2012-2013 season with Manchester City. The Citizens of the rock is ahead of Galatasaray striker Didier Drogba who collects 24% of the vote. The first vote of the press (28%), Wilfried Bony ranks third. Author of 31 goals in 30 games in the colors of Vitesse Arnhem last season, Bony, new striker of Swansea, ranked third with 17% of the aggregate vote. Aruna Kone comes in the fourth position before the winner of the 2012 edition, Gervinho who falls in the 5th place.
This is the third time after 2008 and 2009, for Yaya Toure to be honored the sport-ivory prices. The winner of the player of the year 2012 of the Glo-CAF Awards second vote of the press with 24% – owes this new price online takes to votes from internet users who gave him 20,179 votes ahead of Drogba 15570 votes.