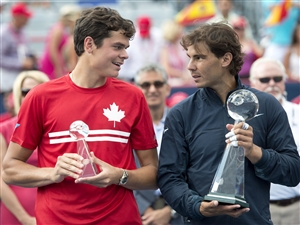 "He (Nadal) gave me a little lesson today." Milos Ronic the Canadian did not find the power of his service to divert Rafael Nadal in the men's final of the Rogers Cup. After his fight against World No. 1 Novak Djokovic the day before, Nadal proved expedient in winning his third title of the hard of Montreal in two identical sets 6/2, 6/2 1:07 minutes.
"I am very, very happy (…) This is a tournament that is special for me, this is where I won my first title on hard in 2005," said Nadal, who also won in 2008, ascends in the third step of the world rankings at the expense of David Ferrer, the fourth. As Serena, winner of the tournament in Toronto, the Spaniard wins his eighth trophy of the season. It is also his 25th Masters 1000 title (record ATP).
Milos Roanic is included in the Top 10. Absent from the Canadian tournament, Jo-Wilfried Tsonga ranks eighth. Eliminated input in Montreal, the South African Kevin Anderson made a jump of two places to rank 19th. He will try to do better this week on the hard of Cincinnati.