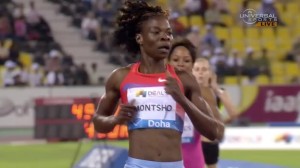 Big disappointment for Africa and Amantle Montsho in the final of 400m ladies. The Botswanan yet author of a best race ran out of steam in the last few inches to conclude.
The reigning world champion who left the hall 5 tumbles from the gun. She quickly swallows the American Natasha Hastings and the Russians Ryzhova and Krivoshapka in the upper corridors.
But the danger came from behind. Britain's Christine Ohuruogu was in the hallway and reached almost 4 speeds on the same line as Montsho. The stadium in total madness holds its breath and waited for the judges' decision. Waiting eagerly for the officials, both athletes embrace. Then the verdict was released.
Ohuruogu is the first in 49'41. The sprinter of Nigerian origin was ahead of Montsho in the same lap but with a time of lower reaction (0.273 against 0.247). It is the Russian Krivoshapka who finished third.