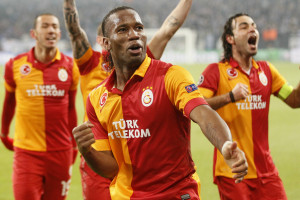 First trophy this season for Didier Drogba. And we can say that having recovered his favorite number was good for him. The Ivorian striker helped his club Galatasaray to win the Supercup of Turkey that opposed them to Fenerbahce (1-0). He was the only scorer in the meeting, who was decided at the end of the evening after the extention. In regulation time, both teams separated on a 0-0 draw.
With Drogba, Eboue, Amrabat at the beginning for Galatasaray and Achille Webo and Moussa Sow for Fenerbahce, the meeting had a scent of Africa Cup of Nations. A first half complicated for both training will very little opportunity. In the second half, Galatasaray gets a boost. The Portuguese defender Bruno Alves was sent off after two dangerous tackles. At 11 against 10, things work out for the Blood and Gold, champions of Turkey.
But not that much. The opportunities are still uncommon and the last 45 minutes give nothing. From the beginning of the extra time, Galatasaray puts its opponent in difficulties. In the 99th min, on a perfect center of Hakan Balta, Drogba emerges and puts an unstoppable header. Fenerbahce, winner of the National Cup, will be unable to reduce the score till the end.
View the Goal of Drogba
[youtube]http://www.dailymotion.com/video/x12ys7o_10_sport[/youtube]