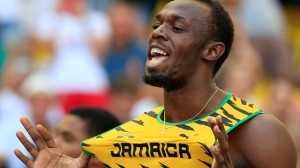 In Jamaica, athletics became a religion since Usain Bolt became the living god of sprint. But the new world champion in the 100m in Moscow does not people to leave the Heavenly Father for him.
Priest Basil Barnaby ended earlier than scheduled his preaching on Sunday for everyone to go and watch Bolt sprinting the world title. "When Jamaicans are really interested in something, nothing and nobody can stop them", said Barnaby, who admitted being a big sports fan and also wanted to see Bolt in action.
After hearing the news in the press (see photo at right), Usain Bolt, very religious, asked for forgiveness from God for this act. It was on Twitter that "the rocket" indicated his message. "God I'm sorry", he has written.