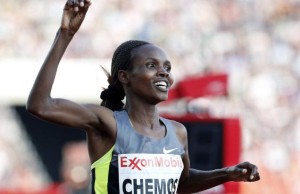 African big performance in the final of the 3000m steeplechase in Moscow on Tuesday. Of the eight African athletes competing, 5 took the first five places. It is the Kenyan Milcah Cheywa who won the race in 9 min 11 sec 65/100e. She has mastered the race from start to finish. She beat her compatriot Lydia Chepkurui (9:12.55)
The Ethiopian Sofia Assefa (9:12.84) also finished on the podium, with a nice African tripled in the continent. Cheywa, 27 years establishes on the way the world's best performance of the season.
She thus provides the second gold medal in Kenya after Edna Kipalagat on 10km and the 13th African charm in the World championships.