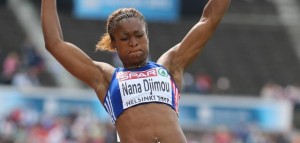 Disappointment for Antoinette Nana Djimou. After the long jump, the Franco-Cameroonian ranks in the tenth place in the heptathlon at the World Championships in Moscow.
During the competition in the long jump, the French finished 15th and penultimate of Group A with a jump of 5.97 m. She has lost three seats. Pointing to the seventh place after the first day of the heptathlon, Antoinette Nana Djimou downgraded this Tuesday in the tenth place after the long jump. The Cameroonian crossed 5.97 m and totalized 4573 points to 222 units of the podium.
It remains the difficult test of 800 m which will be held in late afternoon.