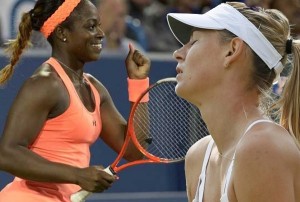 Return to competition after her elimination at Wimbledon, Maria Sharapova, who withdrew for the Rogers Cup will not go further than the second round in Cincinnati. The World No. 3 who made his opening match was beaten in three sets by Sloane Stephens for their second encounter on Hard.
Yet it is the Russian who manages a good start by pocketing the first set in 29 minutes 6/2. She begins the next round at the same pace with a new break on the first service of Stephens. An unconfirmed break. At 2-2, the two players are mistresses of their service and must decide in the tiebreak. The 17th player in the WTA wins 7-5. Maria Sharapova does not recover and lost the last set 6/3.
Sloane Stephens qualified for the eighth-finals after 2 hours 22 minutes 2/6, 7/6 [7-5], 6/3. She will try to do better than in Toronto against the winner of the match between Jelena Jankovic and Ekaterina Makarova.