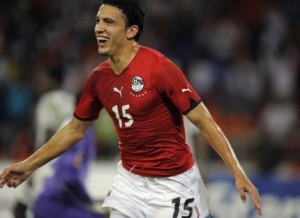 The Pharaohs had no difficulty in getting rid of Uganda in one of the friendly games included in the FIFA Day on August 14. On a 3-0, the men of the U.S. coach Bob Bradley logically won an encounter they dominated.
By the 15th minute, Ahmed Hassan Koka opened the scoring for his debut in team A. He was most recently at the World Cup U20. He was imitated in the second half by the Basel midfielder, Mohamed Salah. Late in the game, Ibrahim Salah strengthens the advance his teammates. The meeting was heald in El Gouna just 400km from the Egyptian capital.
Egypt is already certain to compete in the qualifying play-offs for the 2014 World Cup. Another friendly to its end, Malawi took over Rwanda 1-0.A score that should interest Nigeria which will play against the Flames for the final day of qualifications for the World Cup.