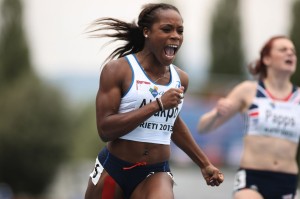 These are statements that will not go unnoticed in the press. Stella Akakpo the Franco-Togolese sprinter present in the Athletics World is more efficient on his Twitter account. Unable to qualify for the semifinals of the 100 m, Akakpo regales his followers with some incendiary tweets.
Two of them did not go at all unnoticed. Overwhelmed by the ease with which the Jamaican Shelly Ann Fraser Pryce splashed the 100m final on Monday , she published on Twitter: "Just one word: LOL this final. I will say nothing more ". But she has not been faithful to what he said by adding a few moments later: "Some complain of a final not too spicy on the 100m. You cannot want the show and a clean line, choose;) ". The message is clear. Stella Akakpo is saying in half-words what she thinks of Fraser who beat her opponents on 100m by 20 centimeters of difference. Both athletes may have the opportunity to clarify in the 4x100m relay.
The compatriot of Usain Bolt will enjoy. Comments that come after many discoveries of doping in the world of international athletics. Especially the confessions of tenors Asafa Powell and Tyson Gay.