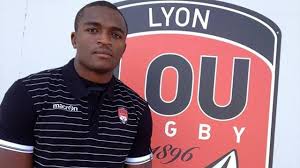 Willy Ambaka officially engaged with the LOU Rugby. The Kenya winger of 23 years has signed a contract for one season plus one optional, said LOU on his website.
Nicknamed" LOMU Kenyan", referring to the All-Blacks legend Jonah Lomu, Willy Ambaka (1.93 m for 98 kg) is one of the best wingers in the Rugby of 7. He also participated with Kenya in the last Rugby World of 7 beaten only in the semifinals.
His success in a professional rugby club of 15 could encourage many clubs in the northern hemisphere for the time attracted by the South African players to explore the Kenyan rugby. This will contribute to the development policy of this rugby initiated by local authorities.