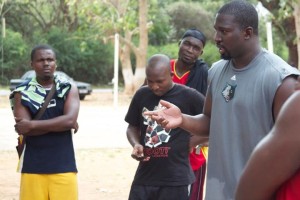 Franck Traore, scout of the NBA Africa, had spent a weekend in Lome in a promotional week of basketball (BPW2013) held from 4 to 10 March 2013 by the Association Leading Youth, Sport and Development (LYSD).
He advocated the establishment of basketball camps to teach the basics of the discipline to young Togolese.
This is now done! Indeed, the Basketball League of Lome Gulf has since August 12 started the first Togolese basketball camp at the municipal stadium of Lome with the support of the Embassy of the United States inTogo.
The initiative has a dual purpose. First, teach and reinforce the fundamentals of 90 young people (45 boys and 45 girls) aged 12 to 18 present at the camp led by former the NBA player of the Dallas Mavericks William Tommy Davis. And secondly educate the youth about societal issues such as respect for others, leadership, teamwork, health, nutrition, STDs and drugs. The event will end on Saturday with the game of the top young.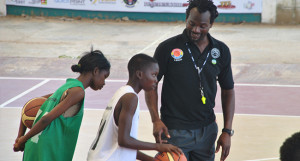 Freddy Zotchi of just 16 years old, who had been noticed during the BPW 2013 should once again prove to his advantage, waiting to participate in the camp of the best young basketball players in West Africa organized by NBA Africa in December to which he was invited. A step that could allow him to pursue his dream of playing basketball at a high level.
[youtube]http://www.youtube.com/watch?v=vsTh_FrVvVg[/youtube]
An initiative such as this camp should be sustained and enable Togo to join in the coming years Afrobasket whose 2013 edition starts on August 20 will be played without the Togolese national team. We will find still many of the best players in the selection mid afternoon after the closing of the camp for the final of the Togolese championship pitting Model to Fighters, a game that promises to be explosive.