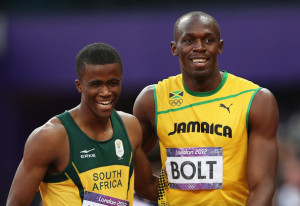 Beautiful feeling this Friday at the Luzhniki stadium for the semi-finals of the 200m men. The South African ANASO Jobodwana regaled the African fans by qualifying for the final of the event. Aligned in the second halves of the series, Jobodwana stands up with the Jamaican favorite Usain Bolt, finishing 2nd in 20s 13.
Bolt ends with one hundredth more (20s 12). Not without difficulty. The world champion in the 100m had to beware when he saw Jobodwana following him like an arrow. The final scheduled for this Saturday promises to be explosive.
Vicaut stops there!
In the first semifinal, the American Curtis Mitchell dominated his opponents 19s 97. He beat the Jamaican Warren Weir who arrived in 20s20. The French Jimmy Vicaut who arrived 4th of this series 20s51 is eliminated.
In the third semi-final, the British Adam Gemili wins in 19s98 and was followed by the Jamaican Nickel Ashmeade. The Dutch Churandy Martina and the Norwegian of Gambian origin Jaysuma Saidy Ndure are recovered in time for the final.