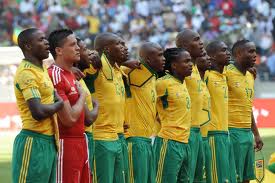 As part of Nelson Mandela Sports and culture week, the Bafana Bafana of South Africa faced Burkina Faso in an International friendly match.
Right from the blast of the whistle, the South Africans attacked from all angles of the pitch. They fought like a wounded lion as they gave the Burkinabe's no breathing space.
Tsabalala who played his 81st match for the Bafana found the back of the net for the South Africans. Tsbalala keen to add more goals to his tally created more threats in the Burkinabe's defends.
A return from the second half saw the South Africans continue their blitzling performance creating the best opportunities in the game. Burkina faso were limited to long range attacks as the South African defenders gave them no room to operate in their yard. Namandella finally gave the South Africans reason to rejoice by adding another goal .