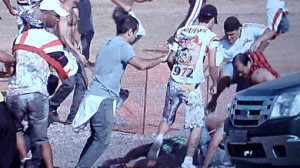 Shame on those Brazilian fans. The ultra violent clashes between supporters of Flamengo and Sao Paulo after a(0-0) draw go around the web.
Flamengo (12th) and Sao Paulo (penultimate) gave a sad look.
Very violent fights have broken around the stadium Estadio Nacional in Brasilia.
Brazilian military police had to intervene to calm them.
Here are the images
Red card!
[youtube]http://youtu.be/zBeoz3ChfnE[/youtube]