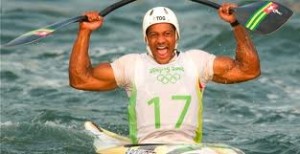 Such his paddle that he smashed in August 2008, the news came as a mace on his fans. Benjamin BOUKPETI off his career as a professional kayaker. The first Togolese Olympic medalist decided to put an end to his sports career he said, "to focus on his development activities with children in Togo and Africa, whether it's with Amadonsa or with Peace and Sport".
"After almost a decade dedicated to my athletic preparation, I'm leaving the training and competitions and I'm becoming an actor of the Olympic Movement where my experience of competitor, I hope could help other African to find the way of the podiums" , he told the Togolese magazine Les Deux Palais and taken over by l'Union pour la Patrie(local biweekly). By winning the bronze at the Beijing Olympics in 2008, BOUKPETI became an icon on the "Land of our Forefathers." His concern to repeat the feat last year in London was vain but his place in the final testifies the determination of the native of Seine-et-Marne in France.
In May BOUKPETI was elected member of the African Olympic Committee in Dakar, Senegal. He incorporated the Olympic movement as the athletes' representative. This is the second Togolese professional athlete to have experienced the Olympics and who then stops his career after the 400m specialist Sandrine Thiebaud-Kangni (as she told us in an exclusive interview a few weeks ago).