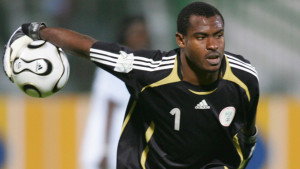 Promoted to become holder at the end of last season, Vincent Enyeama has started this season in League 1 in the cages of Lille. After a loan to Maccabi Tel Aviv last season, the Nigerian goalkeeper should have a fairly substantial time with the northern club. In an interview with the club's website, the Super Eagles has expressed his ambitions this season with LOSC.
"I love LOSC. This club has a magnificent stadium in which there is a great atmosphere. I feel good, I'm proud of this region. That's why it was not hard to say "I'll be back" after my visit to Tel Aviv. My dream was to play, it is realized. "
"If we can be on the podium this yearwith Paris, Monaco, Marseille, Lyon, etc.. it would be amazing. I do not know if it will happen but I know we will work hard for it. "
At 30, after winning the African Cup of Nations in 2013 with the national team of Nigeria, Vincent Enyeama made a winning return to the North. Last year, following the arrival of Steeve Elana, Enyeama was pushed to the bench and ultimately loaned by the LOSC to Maccabi Tel Aviv.