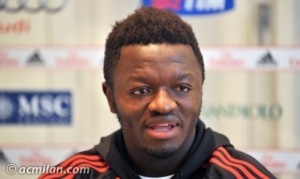 Deputy Minister of Sports Joseph Yammin has ordered Sulley Muntari to apologise to the Black Stars Coach Akwasi Appiah.
The midfielder showed a questionable attitude to the Black Stars management by asking why he was substituted, a question he had never asked neither his club AC Milan manager nor any Expatriate coach who had coached the Black Stars before. Muntari confronted the coach in the dressing room and unconfirmed media reports say the 28-year-old used abusive language on the coach for substituting him.An attitude that should'nt had come from a senior player like him.
Muntari's refusal to apologise to the coach  is likely to deny him a call-up for Ghana's final Group D Brazil 2014 qualifier against Zambia on 6 September. "I think it is proper and right for Sulley to apologize for his behaviour towards coach Appiah in the Lesotho-Ghana game. He is a senior player and should set a good example for the young players to follow",Yammin said.
"It appears coach Appiah is not happy, and the earlier Muntari apologizes for his rude behaviour, the better it will be for him.
Muntari must apologize to coach Appiah before the Zambia game in Kumasi if indeed he wants to return to the Stars fold.
We must back coach Appiah to instill discipline in the team."
Ghana will play against Zambia in their last Group match on the 6th September 2013.