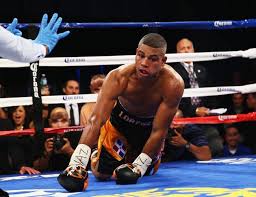 What a comeback! This is the video buzz of the day. The American boxer Danny Jacobs is a true miracle. At the top of his form and glory, he had to interrupt his career after chemotherapy to cure osteosarcoma, a rare form of cancer.
But since several weeks, he concatenates fighting. He is in his fourth since his return, and he knocked out the Dominican Giovanni Lorenzo in the third round.
Here is the video that goes around the web! What a power!
"The Golden Child" is more than ever the terror of the rings
[youtube]http://youtu.be/hhIqV95A05g[/youtube]