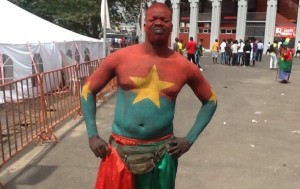 Burkina Faso has made his baptism on the continental scene of basketball Wednesday. The Stallions who aimed for the last four of the Afrobasket have been tamed by the Rwandans.
A defeat that has undermined the morale of this fan that made the trip at Palais des Sports of Treichville (Abibjan) for the 27th Afrobasket.
We hope that the Stallions will find the necessary for a successful exploit against Tunisia on Friday and bring back smile to his supporters, especially the one in this photo posted on Twitter.