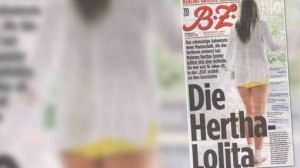 The German football is in shock! Five players from Hertha Berlin would have had priced sex with a girl of 16 years.
This is the German daily Berliner Zeitung that reveals the case!
The players concerned were married … She would have made the players believe that she was 19 years old while she was 16.
The case dates back to April, when the girl gets the phone number of a player of Hertha as an autograph.
One of the players had offered 1,000 Euros to a friend of the girl in exchange of blow job.
The girl admits in the daily: "I am ashamed. But I am surprised that my partners do not have a bad conscience "
The reaction of the club is expected.