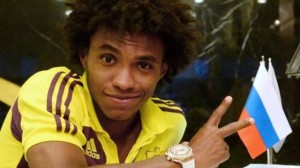 The transfer window is also mischievousness. Tottenham has just learned it with pain. While the Spurs were the first on the Willian folder, Chelsea announced having reached an agreement with Anzhi Makhachkala for the transfer of the Brazilian midfielder. It just lacked a work permit that the club should buy Wednesday.
It is Tottenham which will bite its fingers. The player was almost ready to join the Spurs before signing for the Blues. It seems that the nationality of the owners of both clubs has weighed heavily in the balance. A call of Abramovich to Kerimov has changed things. A sum of 37 million Euros is advanced.
Willian has thus fill the midfield already brimming of Chelsea with Juan Mata, Oscar, Hazard, Moses, Schürrle, De Bruyne, Van Ginkel, Lampard, Ramires. What a traffic jam!
This is yet another departure from Anzhi which again tasted defeat on Saturday.