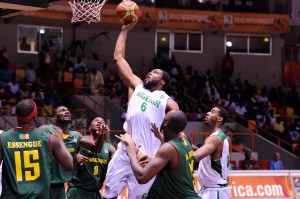 Since August 20, the virtuoso of the African orange ball are challenging one another on the tartan of the Palais des Sports in Treichville for the 27th edition of the Afrobasket. Twenty-four matches were played between 20 and 25 August. During these meetings the players like the Congolese Giovan Oniangue during the match Congo-Mali were well illustrated.
Before meeting for the second round which starts today, let's have a look at those who tried to lead their teams to victory.
Here are the Top 5 scorers, rebounders and passers established by FIBA Africa.
Top 5 Top Scorers
1 Kenneth Gasana 22 pts (Rwanda)
2nd Ike Diogu 21.3 pts (Nigeria)
3rd Makrem Ben Romdhane 20.7 pts (Tunisia)
4th Alade Aminu 19 pts (Nigeria)
5th Giovan Oniangue 19 pts (Congo)
Top 5 rebounders
1 Assem Marei 11.7 rebounds (Egypt)
2nd Ike Diogu 11.3 rebounds (Nigeria)
3rd Kami Kabangu 10 rebounds (Rwanda)
4th Makrem Ben Romdhane 9 rebounds (Tunisia)
5th Salah Mejri 8.7 rebounds (Tunisia)
Top 5 Best passers
1 Olimpio Cipriano 5.5 wt (Angola)
Second Al-Farouq Aminu 5.3 wt (Nigeria)
3rd Hamza Ruhezamihigo 5.3 wt (Rwanda)
4th Abdelhalim Kouane 4.7 wt (Algeria)
5th Benedict Michael Mokongo 4.7 wt (Central).