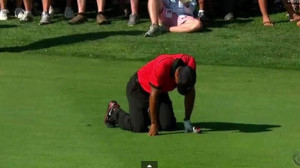 This is the video buzz of the day!
It is rare to see a golfer collapse on a green victim of cramps.
Yet this is what just happened to the famous Tiger Woods! The American finished second in the Barclays behind the Australian Adam Scott. The golfer would have won if he had not been the victim of incredible back cramps that truly stroke him down.
The player ensures that it is the fault of an uncomfortable mattress in his hotel.
At the price at which he pays his rooms …
In the meantime here are the images that go around the net …
[youtube]http://youtu.be/CXr44z1OUUI[/youtube]