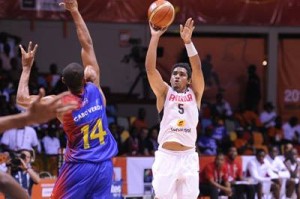 Angola continues its march towards the title of Afrobasket. The African runner-up qualified for the semi-finals at the expense of Morocco, 95-73, in the quarterfinals.
With a 22-point cushion at halftime (50-28), Angola made its bench play in the second half, just to keep the band brimming before the half. The group is distinguished with 37% success rate on long distance shots (11/30) and hurt Morocco stagnating at 19% (3/16). The Moroccan Abdelhakim Zouita blackened his stat sheet with 25 points, 4 rebounds, 4 assists and 2 blocks and finished top scorer of the game.
The Palancas compete for the ticket to the final against the winner of Ivory Coast-Cameroon.