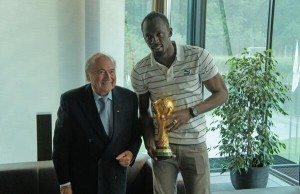 We know he is a big fan of football and especially of Manchester United. Usain Bolt has never hidden his desire to pursue a career in football at the end of his (already) rich athletic career. The Jamaican champion was Wednesday in the premises of the FIFA (International Federation of Association Football).
Bolt was received by the head himself Joseph Sepp Blatter and the two men discussed about football.
He also had the opportunity to lift the trophy for the World Cup football. A precious object coveted in the world. A trophy also dreamt of by the "Lightning".