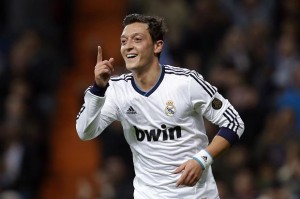 Real Madrid midfielder Mesut Ozil has come out clear that he is not leaving his club He said this as a respond to claims that he could be set to leave the club before the end of the transfer window next week. Premier League duo Manchester United and Arsenal had been linked with Ozil who is starting his fourth season at Los Blancos after joining from Werder Bremen in 2010.
However, he insisted his future lies in the Spanish capital. "I have a contract until 2016, I feel very good here and get on well with my teammates. For me it is an honour to play here with this team. I want to succeed here. There has been a lot written in the press,they have shared their opinion but I have a contract and I am staying at Real Madrid", he said at a promotional event on Wednesday.
According to him,  there are series of objectives that Madrid want to achieve in which every one has their own role to play.  This is one of the reasons he  want to stay.