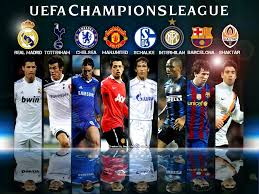 This Thursday, will take place the draw for the group stage of the 2013-2014 European Champions League. The ceremony will place in Monaco, France.
32 trainings divided into four pools of 8 are waiting to know their fate. In pool 1 are some favorites like Bayern Munich, the trophy holder, Real Madrid and FC Barcelona.
Pool 2 contains some equally scary teams such as AC Milan, Juventus and PSG.
Despite its presence in the pool 4 of Real Sociedad that defeated Lyon in Wednesday in dams will figure as scarecrow. As well as Borussia Dortmund Vice European champion.
Pool 1: Bayern, Barcelona, Chelsea, Real Madrid, Man Utd, Arsenal, Porto, Benfica
Pool 2: Atletico Madrid, Shakhtar Donetsk, AC Milan, Schalke 04, Marseille, CSKA, PSG, Juventus.
Pool 3: Zenit, Man City, Ajax, Dortmund, FC Basel, Olympiakos, Galatasaray Leverkusen
Pool 4: Copenhagen, Naples, Anderlecht, Celtic, Steaua Bucuresti, Viktoria Plzen, Real Sociedad, Austria Wien
Place your bets!