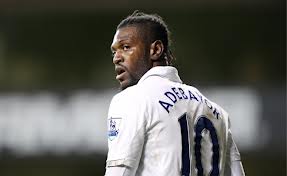 Schalke 04 bestirs itself by the end of the transfer window. The German club lost the battle for Samuel Eto'o and probably will not see the arrival of Ronaldinho but is still hoping elsewhere. While the Ghanaian Kevin-Prince Boateng is currently undergoing the medical examination, several media announced the likelihood of seeing Emmanuel Adebayor landing.
The Togolese striker unwanted at Tottenham is the source of many rumors since the beginning of the transfer window. Already proposed to Real Madrid, the former Gunner is still in London. But the situation will change in the coming hours. To believe Bild, Schalke 04 proposes a transfer between 3 and 5 million Euros for the player. But Tottenham would like to be paid at least 7 million. A price found too high for the Germans.
If negotiations fail, Schalke would also consider a loan. The Bundesliga club wants to strengthen his forward line for the Champions League. Yesterday, you were informed of the attempt of the Spurs to exchange the striker against Emmanuel River of Monaco.