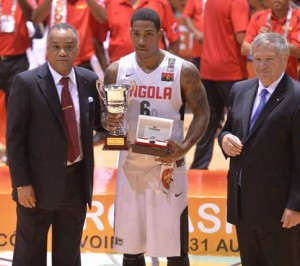 The curtain fell on Saturday on the 27th edition of Afrobasket with the 11th coronation of Angola, winner of Egypt in the final.
Angola and Egypt will represent the continent in the next world championship of basketball in company with Senegal (3) winner of Ivory Coast in a classification match. Host of this edition, Ivory Coast gets consoled with the price of fair play.
At the end of this African basketball championship, the Angolan winger Carlos Morais was nominated MVP.
Individual distinctions in Afrobasket 2013 (source Fibaafrica)
Best rebounder: Assem Marei (Egypt)
Best three-pointer: Carlos Morais (Angola)
Top scorer: Ike Diogu (Nigeria)
Best Player: Carlos Morais (Angola)
Fair Play: Ivory Coast

5 majors Afrobasket 2013:
Leader: Souleymane Diabate (Côte d'Ivoire)
Winger: Maleye Ndoye (Senegal)Forward: Carlos Morais (Angola)
Pivot: Eduardo Mingas (Angola)
Pivot: Assem Marei (Egypt).