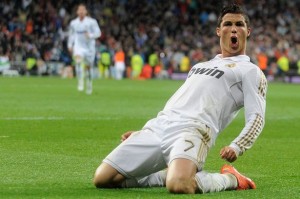 Third win in three games for Real Madrid. The club of Carlo Ancelotti has won Sunday 3-1 against Athletic Bilbao at the Santiago Bernabeu.
Isco opened the scoring for the Merengues and scored a second goal late in the game.
Cristiano Ronaldo silent since the beginning of the season took responsibility and registered the second goal for his team just before the halftime. On a free kick from Di Maria, the Portuguese alone in the penalty box adjusts with a head butt the opposing goal;
Real Madrid is already in full swing. But the White House is still waiting for Gareth Bale, the transfer should be formalized today or tomorrow.
View the goal of Ronaldo!
[youtube]http://www.youtube.com/watch?feature=player_embedded&v=_tf6yZmk1G8[/youtube]